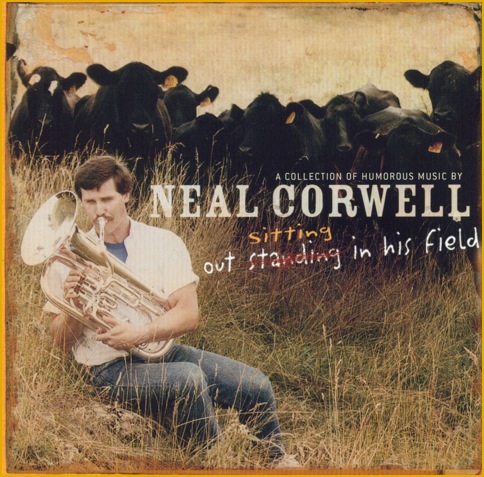 Out Sitting in his Field
2004
A collection of less-than-serious music,
Source of inspiration: mostly cows and other barnyard animals

purchase price: $12

track list:
1-Endearing Young Charms • a staple of the euphonium solo diet
2-Hungarian Hallucination • a theft of material from Franz Liszt and others
3-Out Standing in my Field • a Blues tune moaning about life on the farm
4-Venetian Carnival Animals • two themes combined with several animals equals fun for all!
5-Lassus Trombone • a unique version of the Henry Fillmore favorite
6-Scherzo from Sinfonietta • so many notes, so little time
7-10-Far Side of the Pasture (in 4 parts)
• trombone and narrator describe a menagerie you'd probably prefer not to find in your barnyard

The Swine Flew
A Horse's Tale
Beware of Bovines
The Mad Hen Two-Step

11-Flight of the Bumble Bee • no time goes wasted during this Rimsky-Korsakov classic
12-Dandy Noodles • variations on Yankee Doodle that feature a bit of dancing & an alternative use for your household plumbing
13-Molly's Solo • Neal gives up the spotlight to let his dog display her vocal talents

During this CD you'll hear Neal playing euphonium, double-bell euphonium, tenor and bass trombones, cornet, guitar, harmonica, pvc pipes, and assorted percussion to include sandpaper blocks, a duck call, a street whistle, a plow share, cowboy boots, and a 1948 Farmall "H" farm tractor. He also performs all synthesizers and samplers, and provides the vocals for Out Standing in my Field and the narration for Far Side of the Pasture. Neal's wife Kathryn deserves credit, whether she wants it or not, for the chicken squawk which concludes the fourth "movement" of Far Side of the Pasture: the Mad Hen Two-Step.