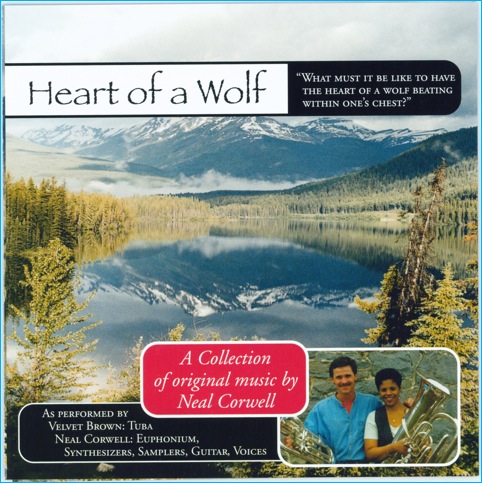 Heart of a Wolf
2000
Velvet Brown and Neal Corwell team up for a remarkably original recording inspired by the beauty of wild landscapes

purchase price: $12


track list:
1-Ritual • meditation, sacrifice, and frenzied celebration all heard in this primitivistic duo
2-2AM • muted euphonium lines and subtle guitar rhythms create a late-night mood
3-Aboriginal Voices • primal rhythms and sounds place listener in the wilds of untamed Australia
4-Black Moon Rising • a dark tone poem depicting a surreal landscape
5-Heart of a Wolf • What must if be like to have the heart of a wolf beating within one's chest?
6-The Furies • a musical depiction of the ominous Furies, as described in Classic Greek tragedies
7-Arctic Dream • an all-synthesizer tone poem inspired by a bleak but beautiful Arctic landscape

Neal performs the euphonium solos for 2AM, Black Moon Rising, and Heart of a Wolf, and Velvet Brown performs the tuba solo, Aboriginal Voices. Neal and Velvet team up for the duo Ritual, and play all the euphonium and tuba tracks for The Furies, an 8-part tuba-euphonium ensemble piece. Neal also performs all synthesizers and samplers heard throughout the CD, plus the guitar part for 2AM and the vocals effects for Ritual, 2AM, Heart of a Wolf and The Furies.