Neal Corwell has performed on numerous recordings, and his compositions, as performed by other artists, have been featured on several record labels. Currently available
for purchase
from
Nicolai Music
are the following Music CDs:
Distant Images
,
Heart of a Wolf
, and
Out Sitting in his Field
.
To learn more, click on the CD covers. All CDs sell for $12 (and shipping to any address in the U.S. is free).

These CDs are filled with definitive performances of Neal Corwell's compositions and arrangements, as performed by Dr. Corwell himself. You will hear him performing euphonium, trombone, guitar, synthesizers, and other instruments on these recordings. Also featured is Velvet Brown on tuba. Highlights include her rendition of
Aboriginal Voices
(for solo tuba with pre-recorded accompaniment) on the
Heart of a Wolf
CD, and the teaming up of Velvet and Neal to perform all eight low brass parts for
The
Furies
(also on the
Heart of a Wolf
CD). For humor, and also blazingly fast and furious technique, one should check out the
Out Sitting in His Field
CD, which is a collection of some of Neal's less-than-serious music. Dr. Corwell's first solo CD,
Distant Images
, is largely, although not exclusively, serene in nature. It presents a unique soundscape, and is best described as a blending of New Age spirituality with Classical virtuosity.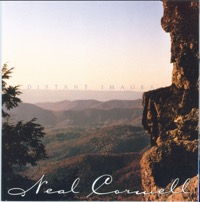 Distant Images