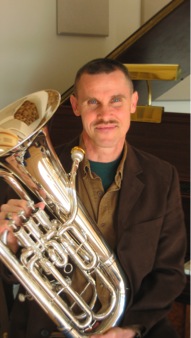 Welcome to the official website for Neal Corwell and Nicolai Music.

All Music AND CDS ARE now available for purchase via PayPal!
for details, see "TO PURCHASE"
(within "Music available for Sale" tab)

3 Pieces for the price of 2 Deals!
A "buy 2, get 1 free" deal is in effect
for all pieces in three categories: with Piano Accompaniment, with CD accompaniment, or with Large Ensemble (orchestra, band, or brass band). (in other words, 3 pieces with piano for $30, 3 with CD for just $40, and so on)

ALSO - FREE SHIPPING to US/CANADA


Dr. Neal Corwell began his career as a professional musician in 1981 when he won a euphonium position with "Pershing's Own", The US Army Band, one of the prestigious premier Washington DC military bands. Since that time he has earned acclaim for his accomplishments not only as a military musician, but also for his endeavors as a soloist/recitalist, clinician, composer/arranger, college professor, and recording artist. In addition to having made hundreds of appearances as euphonium soloist with bands and orchestras, Neal has also presented over 1,100 solo recitals during his travels across the US and around the globe. He is looking forward to increasing the number of his annual appearances, now that he recently retired from military service and therefore has much more flexibility in his personal schedule. Below is a summary of his musical experience. For more detailed information, please consult his biography.

Performing
During his more than 37 years as a professional musician, Neal has built an international reputation as a top euphonium soloist and clinician, and made significant contributions to the repertoire available for solo euphonium. He is also a seasoned professional trombonist, having recorded and performed solo works for both tenor and bass trombone, and done much brass quintet, orchestral, and other free-lance work. In addition to his recitals and solos with ensembles, he has created an entertaining one-man brass band show which he takes into public schools to get children excited about music. He also frequently gives lessons and presents master classes at universities during his travels as a solo artist.

Composing
Neal Corwell is a respected and award-winning composer and arranger as well, and although the primary focus of his work in this area has been directed toward the creation of new euphonium and tuba music, he has also written for other wind instruments, strings, voices, and diverse ensembles, both small and large, to include symphonic bands and orchestras. To date, he has created 22 works with CD accompaniment, over 30 with piano accompaniment, and over 25 works with large ensembles. He has also created numerous compositions and arrangements for other instrumental combinations. All of his music is listed on this website, and most of it is currently available for purchase through Nicolai Music. For more information on his career as a composer, please consult his composer biography.

Teaching
Dr. Corwell has college teaching experience, having served for several years as adjunct music professor at two universities: Shepherd University in West Virginia, and Frostburg State University in Maryland.

Recording
Neal also has experience in the recording field, having done all the studio work (sampling, sequencing, tracking, mixing, and mastering) for his own solo CDs and also for the dozens of his works that utilize a pre-recorded accompaniment. He has also performed on numerous CD projects for other record labels.

Publishing
And finally, in regard to music publishing, Dr. Corwell has over 29 years experience in this area, having worked with several publishers over the years and owned and operated his own publishing business, Nicolai Music, since 1989.

This website is a work in progress, and is regularly being updated. It currently provides biographical information, lists of compositions, information about purchasing CDs or solos from Nicolai Music, and program notes plus music samples for many of Dr. Corwell's compositions and arrangements. To learn more about what is to be found on this site, or plans for the future, select the About this Website or What's New? buttons on your left. To contact Neal Corwell directly, use the "Contact Neal" link located at the bottom of all pages. You may also contact him via Facebook.