Catoctin
,
Opus 34 by Neal Corwell
Instrumentation
: solo tuba with band
(piano accompaniment also available)

Copyright:
1999

Duration
: 10:00

Range
:
FF to g-flat-1
Difficulty
: V

Publisher
: Nicolai Music

Price
: $55 (score and parts)
$15 for piano accompanied version

Other Info:
Commissioned by Steven Dillon of
Dillon Music
, and premiered by Kelly O'Bryant at 1999 The US Army Band Tuba Euphonium Conference in Arlington, Virginia.
It is both the natural beauty and rich heritage of the Catoctin Mountains, located in Northwest Maryland, that were the inspiration for "Catoctin", a concertpiece for tuba solo with wind ensemble. The forests of the Catoctin region were stripped virtually bare by European settlers, but fortunately the area was purchased for preservation as park land by the US government during the 1930s and subsequently rejuvenated to its present scenic state. In addition to its ecological onslaught, the mountains have also borne witness to many human conflicts over the centuries, to include the American Civil War, plus the earlier clashes between Native Americans and early white settlers.

The solo tuba is clearly the principal voice of the work, but many important musical elements are also entrusted to the ensemble and its principle players. The delicate interplay between tubist and ensemble creates a texture that is as much tone poem as feature solo work. Although a single-movement composition,
Catoctin
is divided into two main sections. The first, subtitled "beginnings", is descriptive of the start of a new day surrounded by the natural beauty that abounds in the area. A trumpet fanfare-like passage announces the start of the second main section, subtitled "echoes". The title refers not only to the acoustic phenomenon, but also to echoes of the region's past. The constantly changing accompaniment textures, combined with the power of the tuba solo part, make this a very exciting work.


click here for pdf version of Catoctin web sample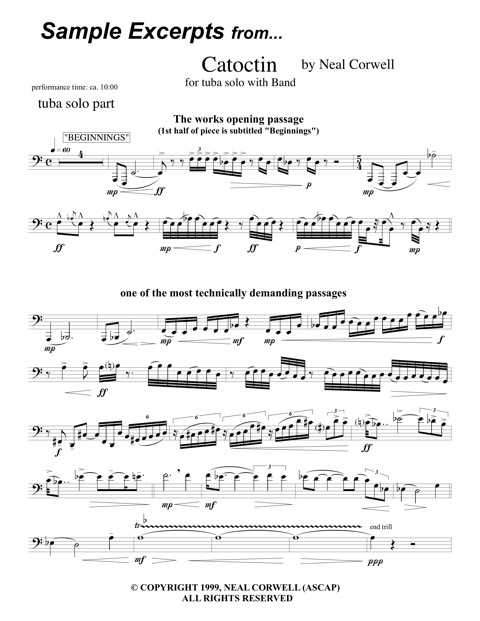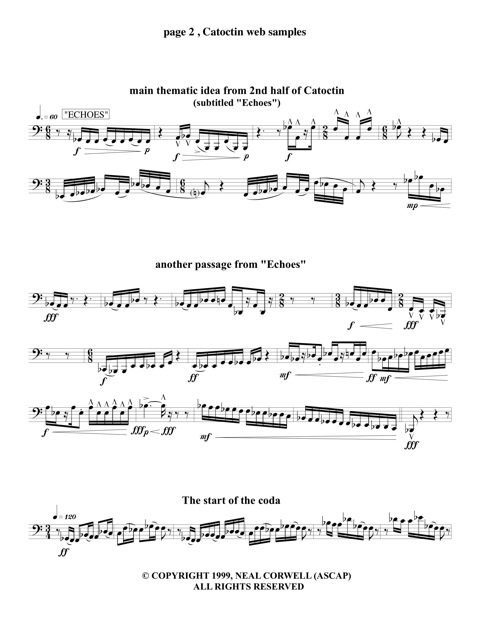 click here for pdf version of Catoctin web sample