Falls the Shadow
,
Opus 52 by Neal Corwell
Instrumentation
: tuba-euphonium quartet with three versions of accompaniment available: orchestra, wind ensemble, or piano 4-hands

Copyright:
2008

Duration
: ca. 8:30

Difficulty
: III-IV

Publisher
: Nicolai Music

Price
: $55 for Wind Ensemble accompaniment (full score & parts)
$55 for Orchestra accompaniment (full score & parts)
$35 for Piano 4-hands accompaniment (full score & parts)

Other Info:
The Orchestral version was premiered January 2008 by The US Army Band Tuba-Euphonium Quartet (Neal Corwell & Dean Miller, euphoniums, Tim Royster & Charles Giannelli, tubas) at Annual US Army Tuba-Euphonium Conference at Fort Myer in Arlington, Virginia. The band version was premiered March 2008, also by The US Army Band Tuba-Euphonium Quartet, accompanied by The US Army Ceremonial Band at Fort Myer in Arlington Virginia. The Piano 4-hands version was premiered May 2010 at the International Tuba-Euphonium Conference in Tucson, Arizona. The performers for that premiere were Neal Corwell and Brian Bowman, euphoniums, Dave Zerkel and Joe Skillen, tubas, Caryl Conger and Barbara Young, piano, and Jerry Young, conductor.


TO PURCHASE
Falls the Shadow
is a work featuring a tuba-euphonium quartet, and was originally written for orchestra and quartet. At the request of the conductor of the premiere performance, David Paroby, a version with wind ensemble accompaniment was created by the composer and subsequently premiered in March, 2008. A third version of the composition, for quartet with a piano 4-hands accompaniment, was created by the composer in 2010.

The work's title is a refrain repeated several times near the end of T.S. Eliot's poem "The Hollow Men", a poem that has been interpreted by some as a lament for what modern man has lost with the advent of the industrial age and the ensuing technological revolution. The primary thematic material for the piece is drawn from two Gregorian chants, the "
Alleluia, Vidimus stellam"
(Alleluia, we have seen his star), and the well-known "
Dies Irae"
(Day of Wrath). These two themes, presented in their entirety by the quartet near the start of the piece, are subsequently juxtaposed
throughout the entire work, each battling for dominance over the
other.


click here for pdf version of Falls the Shadow web sample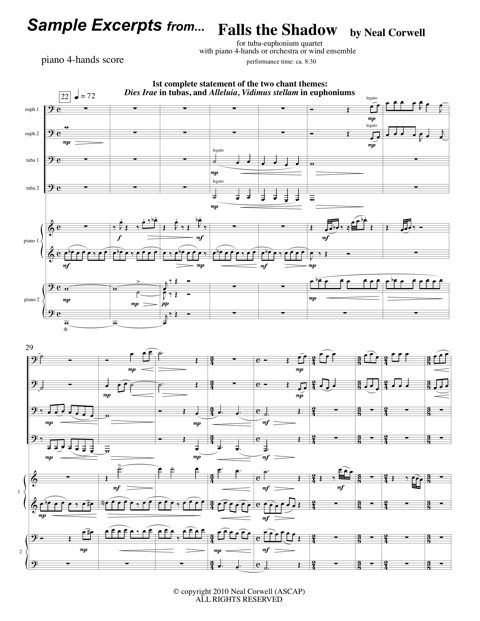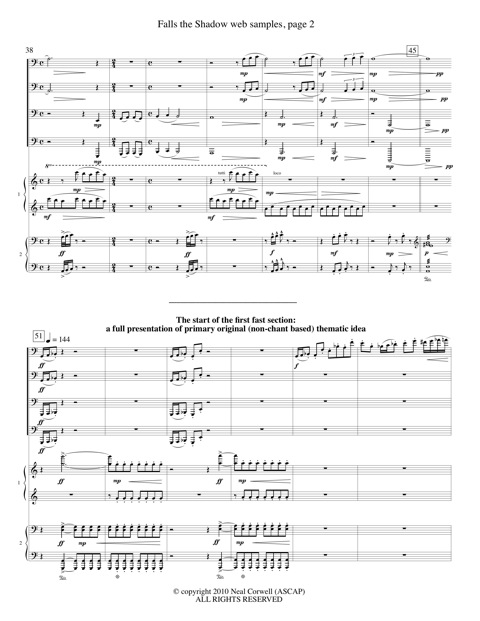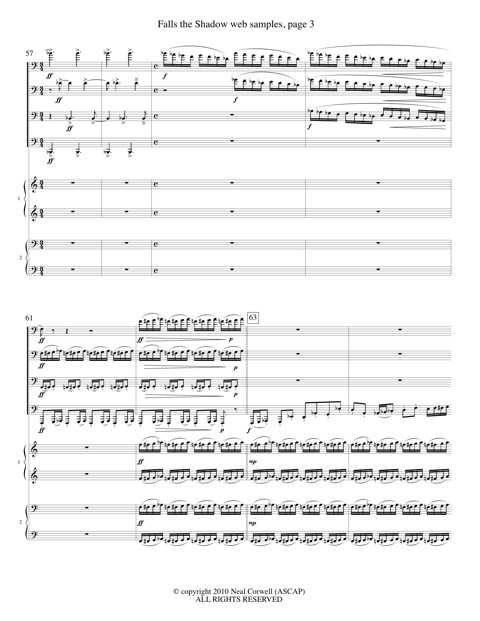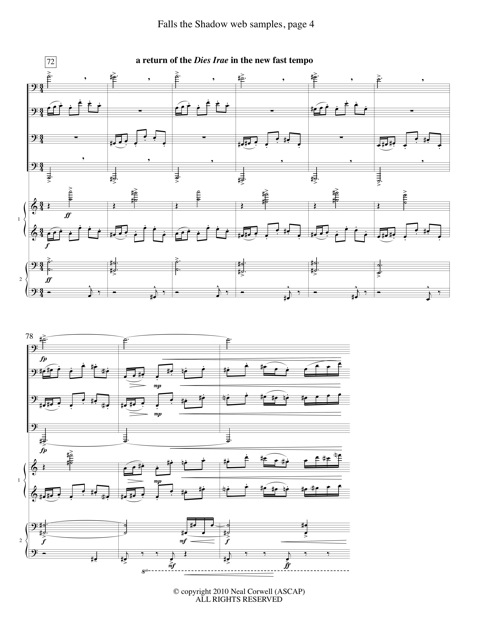 click here for pdf version of Falls the Shadow web sample