New England Reveries
,
Opus 10 by Neal Corwell
Instrumentation
: solo tuba or euphonium with CD accompaniment

Copyright:
1990

Duration
: 9:15

Range
: FF to b for tuba (one octave higher, F to b-1 for euphonium)

Difficulty
: IV

Publisher
: Nicolai Music

Price
: $20 (includes accompaniment CD and printed music with acc. cues)

PLUS ADDITIONAL SAVINGS: BUY ANY 2 PIECES WITH CD ACCOMPANIMENT & RECEIVE A 3RD PIECE WITH CD ACC. FREE!
a great opportunity to add to your music library!

Recorded by: Mark Nelson, tuba (New England Reveries CD, Crystal Records) & Neal Corwell, euphonium (Distant Images CD, Nicolai Music) & Gavin Woods, tuba (Traveling by Tuba CD)
Other Info: Written for Mark Nelson and premiered by him at the University of Vermont, in 1990.

to hear performance, click here

TO PURCHASE

New England Reveries is intended to evoke images of the beauty of New England's varied landscapes. The slow and serene opening and closing portions of the composition are balanced by the contrasting middle section which is rapid, forward-driving, and somewhat humorous. As to the work's overall musical conception, it may be said to be a combination of the lyricism of Night Song and the virtuosic requirements of Odyssey. The thematic materials are organized in an arch form, which could be charted as follows:


introduction / A / A' / B / C / B' / A'' / coda


The work is primarily lyrical and the soloist is sometimes given elaborate and somewhat intricate counter-melodies. Most technical challenges, which are moderate, come in the central sections, which are sprightly and dance-like in character.

Dr. Mark Nelson was present at the 1989 premiere of Neal Corwell's first composition for the medium euphonium and tape, Night Song, and soon thereafter he approached Dr. Corwell about writing a similar work for tuba and tape for inclusion on his upcoming compact disc with Crystal Records. The result of his commission was New England Reveries, a work designed as a vehicle for either a tuba or euphonium soloist with a pre-recorded synthesizer accompaniment. The title was appropriate because Dr. Nelson, at that time, was teaching in the beautiful and scenic state of Vermont. The score was completed during July of 1990, and the final version of the synthesizer accompaniment was recorded during the first weeks of September, just in time for the premiere by Dr. Nelson at the University of Vermont on October 17, 1990.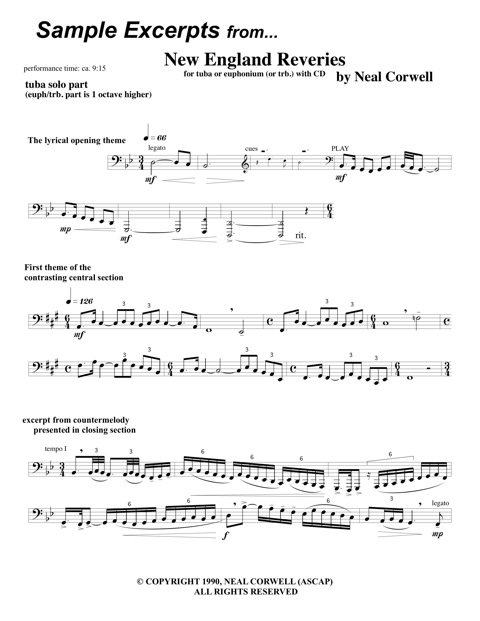 click here for pdf version of New England Reveries web sample